UPS Global Freight Forwarding/Supply Chain Solutions
Effective March 23, 2020
All IAF Services will be charged a Capacity Surcharge based on the below schedule: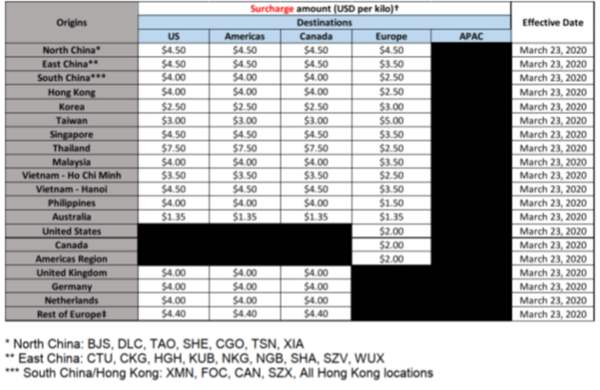 P.A.M. Transportation
Arkansas-based Carrier
Laid off 50 workers and drivers in response to automotive plant closures
DHL
Emergency Situation Surcharge to begin April 1, 2020
The Emergency Situation Surcharge will be applicable to all Time Definite International (TDI) shipments.
It is not applicable to Day Definite International (DDI – road) or Time Definite Domestic (TDD) shipments. It also does not apply to our Life Science and Healthcare customers and DHL Medical Express (WMX) shipments.
The Surcharge will be billed according to the below table: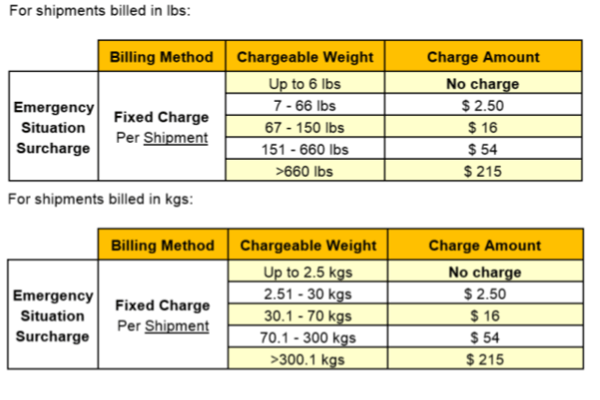 FedEx Freight
Effective Date 3/27/2020: FedEx Freight is no longer asking drivers to review restricted states, essential businesses, or commodities.
FedEx Freight has implemented a Rapid Return process which will prompt the carrier to return any load to the shipper on a revenue bill, for a load sent to a closed consignee.
This process change applies to all shipments regardless of Tariff.
This further enhances the importance of shippers to verify the consignee will open to accept deliveries before shipping.
YRC Worldwide
Effective March 25, 2020 YRCW companies suspended reimbursement for service failures on Guaranteed and Time-Critical shipments.
They are not expecting shipments to experience disruptions and priority will still be given to Guaranteed and Time-Critical shipments.